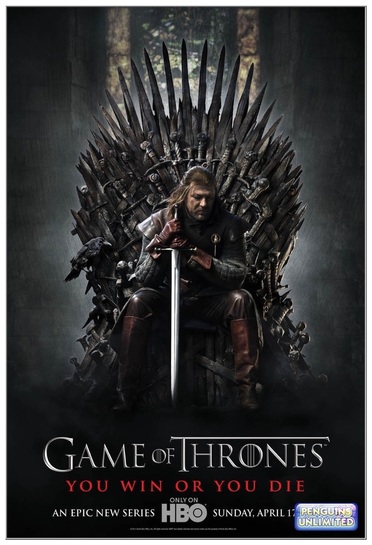 Game of Thrones : Season 1
(2011)
Game of Thrones: The Complete First Season
Stars: Sean Bean, Mark Addy, Nikolaj Coster-Waldau, Michelle Fairley, Lena Headey, Emilia Clarke, Iain Glen, Harry Lloyd, Kit Harington, Sophie Turner, Maisie Williams, Richard Madden, Alfie Allen, Isaac Hempstead Wright, Jack Gleeson, Rory McCann, Peter Dinkla
Director: Tim Van Patten, Brian Kirk, Daniel Minahan, Alan Taylor
Writer: David Benioff, D. B. Weiss, George R.R. Martin, Bryan Cogman, Jane Espenson
Language: English
Studio: HBO Entertainment
Duration: 561
An American fantasy drama television series created by David Benioff and D. B. Weiss. It is an adaptation of A Song of Ice and Fire, George R. R. Martin's series of fantasy novels, the first of which is A Game of Thrones.
Set on the fictional continents of Westeros and Essos, Game of Thrones has several plots and a large ensemble cast but follows three story arcs. The first arc is about the Iron Throne of the Seven Kingdoms and follows a web of alliances and conflicts among the noble dynasties either vying to claim the throne or fighting for independence from it. The second story arc focuses on the last descendant of the realm's deposed ruling dynasty, exiled and plotting a return to the throne. The third story arc follows the longstanding brotherhood charged with defending the realm against the ancient threats of the fierce peoples and legendary creatures that lie far north and an impending winter that threatens the realm.
The first season of the fantasy drama television series Game of Thrones premiered on HBO on April 17, 2011 in the U.S., and concluded on June 19, 2011. It consists of ten episodes, each of approximately 55 minutes.
The story takes place in a fictional world, primarily upon a continent called Westeros, with one storyline occurring on another continent to the east known as Essos. Like the novel, the season initially focuses on the family of nobleman Eddard Stark, who is asked to become chief advisor to his king and longtime friend, Robert Baratheon. Ned must find out who killed the previous Hand of the King, Jon Arryn, while trying to protect his family from their rivals the Lannisters. He uncovers the dark secrets about the Lannisters that his predecessor died trying to expose. Meanwhile, in Essos, the exiled Viserys Targaryen, son of the former king, believes he still has the rightful claim to the throne.
---
| | |
| --- | --- |
| Sean Bean | Eddard Stark |
| Mark Addy | Robert Baratheon |
| Nikolaj Coster-Waldau | Jaime Lannister |
| Michelle Fairley | Catelyn Stark |
| Lena Headey | Cersei Lannister |
| Emilia Clarke | Daenerys Targaryen |
| Iain Glen | Jorah Mormont |
| Harry Lloyd | Viserys Targaryen |
| Kit Harington | Jon Snow |
| Sophie Turner | Sansa Stark |
| Maisie Williams | Arya Stark |
| Richard Madden | Robb Stark |
| Alfie Allen | Theon Greyjoy |
| Isaac Hempstead Wright | Bran Stark |
| Jack Gleeson | Joffrey Baratheon |
| Rory McCann | Sandor Clegane |
| Peter Dinklage | Tyrion Lannister |
| Donald Sumpter | Maester Luwin |
| Jamie Sives | Jory Cassel |
| Ron Donachie | Rodrik Cassel |
| Joseph Mawle | Benjen Stark |
| Roger Allam | Illyrio Mopatis |
| Dar Salim | Qotho |
| Esmé Bianco | Ros |
| Susan Brown | Septa Mordane |
| Bronson Webb | Will |
| John Standing | Jon Arryn |
| Rob Ostlere | Waymar Royce |
| Dermot Keaney | Gared |
| Art Parkinson | Rickon Stark |
| Callum Wharry | Tommen Baratheon |
| Aimee Richardson | Myrcella Baratheon |
| Kristian Nairn | Hodor |
| Rania Zouari | Pentoshi Servant |
| Ian Whyte | White Walker |
| Spencer Wilding | White Walker |
| Claire Wright | Wildling Girl |
| Jason Momoa | Khal Drogo |
| Maxine Anthony | |
| Coral Messam | |
| Nwanokwu Kelechi | |
| Sarita Piotrowski | Jhiqui |
| Roxanne McKee | Doreah |
| Amrita Acharia | Irri |
| Wilko Johnson | Ilyn Payne |
| Rhodri Hosking | Mycah |
| Luke McEwan | Rast |
| Lalor Roddy | Catspaw |
| Conor Delaney | Lannister Guardsman |
| Aidan Gillen | Petyr Baelish |
| Conleth Hill | Lord Varys |
| James Cosmo | Jeor Mormont |
| Owen Teale | Alliser Thorne |
| Ian McElhinney | Barristan Selmy |
| Julian Glover | Grand Maester Pycelle |
| Gethin Anthony | Renly Baratheon |
| Peter Vaughan | Maester Aemon |
| Miltos Yerolemou | Syrio Forel |
| Margaret John | Old Nan |
| Robert Sterne | King's Landing Page |
| Mark Stanley | Grenn |
| Josef Altin | Pypar |
| Elyes Gabel | Rakharo |
| Eugene Simon | Lancel Lannister |
| Paul Portelli | Drunk Patron |
| Nickovich Sammut | Goldcloak #1 |
| Seamus Kelly | Goldcloak #2 |
| Emily Diamond | King's Landing Whore |
| Jerome Flynn | Bronn |
| Francis Magee | Yoren |
| Dominic Carter | Janos Slynt |
| Emun Elliott | Marillion |
| John Bradley | Samwell Tarly |
| Conan Stevens | Gregor Clegane |
| Jefferson Hall | Hugh of the Vale |
| Joe Dempsie | Gendry |
| Andrew Wilde | Tobho Mott |
| Kevin Keenan | Knight of House Whent |
| Patrick Ryan | Knight of House Bracken |
| Ryan McKenna | Knight Harrenhall |
| Susie Kelly | Masha Heddie |
| Kate Dickie | Lysa Arryn |
| Finn Jones | Loras Tyrell |
| Ciaran Bermingham | Mord |
| Lino Facioli | Robin Arryn |
| Brendan McCormack | Vardis Egen |
| Alan Paris | Gold Cloark |
| Antonia Christopher | Mhaegen |
| Natalia Tena | Osha |
| Amira Ghazella | Dothraki Old Crone |
| Niall Cusack | Riverlands Petitioner |
| Stephen Don | Stiv |
| Patrick Rocks | Knight of the Vale |
| Barrington Cullen | Older Knight of the Vale |
| Barry O'Connor | Night's Watch Deserter |
| David Scott | Beric Dondarrion |
| Charles Dance | Tywin Lannister |
| Simon Lowe | Wine Merchant |
| Sahara Knite | Armeca |
| Graham Charles | Varly |
Genre: Adventure, Fantasy, Television
Media: Blu-ray
Sound: DTS-HD Master Audio