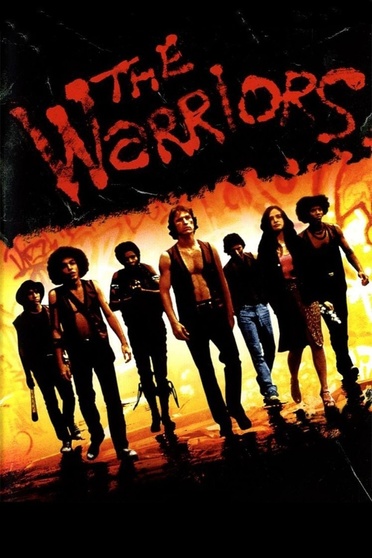 Tonight they're all out to get the Warriors.
Stars: Michael Beck, James Remar, Dorsey Wright, Brian Tyler, David Harris
Director: Walter Hill
Writer: Walter Hill, Sol Yurick, David Shaber
Language: English
Studio: Paramount Pictures
Duration: 93
Rated: R
DVD Release: October 2005
Cyrus, the leader of the most powerful gang in New York City, the Gramercy Riffs, calls a midnight summit for all the area gangs, with all asked to send nine unarmed representatives for the conclave. A gang called The Warriors are blamed for causing gang violence at theaters, but now it looks as highly stylized and pulpy as Hill intended. The plot finds a New York gang having to cross the territory of rivals in order to get to their own 'hood. And so The Warriors begin their long journey from the Bronx back to Coney Island. The second-in-command, Swan, takes charge, though the hot-headed Ajax openly voices his desire to be acting gang warlord. The Warriors slowly cross the dangerous Bronx and Manhattan territories, narrowly escaping police and other gangs every step of the way.
---
| | |
| --- | --- |
| Michael Beck | Swan |
| James Remar | Ajax |
| Dorsey Wright | Cleon |
| Steve Chambers | |
| Brian Tyler | Snow |
| David Harris | Cochise |
| Tom McKitterick | Cowboy |
| Marcelino Sánchez | Rembrandt |
| Terry Michos | Vermin |
| Deborah Van Valkenburgh | Mercy |
| Roger Hill | Cyrus |
| David Patrick Kelly | Luther |
| Lynne Thigpen | D.J. |
| Ginny Ortiz | Candy Store Girl |
| Mercedes Ruehl | Policewoman |
| John Snyder | Gas station man |
| Deborah Van Valkenberg | |
| Dennis Gregory | Masai |
| Gwynn Press | Prom Couple |
| Jodi Price | Prom Couple |
| Jeffrey Scott | Prom Couple |
| Carl Brown | Prom Couple |
| Edward Sewer | Gramercy Riff |
| Ron Ferrell | Gramercy Riff |
| Fernando Castillo | Gramercy Riff |
| Hubert Edwards | Gramercy Riff |
| Larry Sears | Gramercy Riff |
| Mike James | Gramercy Riff |
| Gregory Cleghorne | Gramercy Riff |
| George Lee Miles | Gramercy Riff |
| Gerald G. Francis | Gramercy Riff |
| Benny Harding | Gramercy Riff |
| Eddie Prather | Gramercy Riff |
| Kevin Stockton | Gramercy Riff |
| Joel Weiss | Rogue |
| Harold Miller | Rogue |
| Dan Bonnell | Rogue |
| Dan Battles | Rogue |
| Tom Jarus | Rogue |
| Michael Garfield | Rogue |
| Chris Harley | Rogue |
| Mark Baltazar | Rogue |
| J.W. Smith | Turnbull A.C. |
| Cal Saint John | Turnbull A.C. |
| Joe Zimmardi | Turnbull A.C. |
| Carrotte | Turnbull A.C. |
| William F. Williams | Turnbull A.C. |
| Marvin Foster | Turnbull A.C. |
| Johnny Barnes | Turnbull A.C. |
| Ken Thret | Turnbull A.C. |
| Michael Jeffrey | Turnbull A.C. |
| Paul Greco | Orphan |
| Apache Ramos | Orphan |
| Tony Michael Pann | Orphan |
| Neal Gold | Orphan |
| James Margolin | Orphan |
| Chuck Mason | Orphan |
| Andy Engel | Orphan |
| Ian Cohen | Orphan |
| Charles Serrano | Orphan |
| Charles Doolan | Orphan |
| Jery Hewitt | Baseball Fury |
| Rob Ryder | Baseball Fury |
| Steven Chambers | Baseball Fury |
| Richard Chiotti | Baseball Fury |
| Tony Latham | Baseball Fury |
| Gene Bicknell | Baseball Fury |
| T.J. McNamara | Baseball Fury |
| Steve James | Baseball Fury |
| Lane Ruoff | Baseball Fury |
| Harry Madsen | Baseball Fury |
| Bill Anagnos | Baseball Fury |
| John Gibson | Baseball Fury |
| Lisa Maurer | Lizzie |
| Kate Klugman | Lizzie |
| Wanda Velez | Lizzie |
| Dee Dee Benrey | Lizzie |
| Jordan Cae Harrell | Lizzie |
| Donna Ritchie | Lizzie |
| Doran Clark | Lizzie |
| Patty Brown | Lizzie |
| Iris Albanti | Lizzie |
| Victoria Vanderkloot | Lizzie |
| Laura Delano | Lizzie |
| Heidi Lynch | Lizzie |
| Craig R. Baxley | Punk |
| A.J. Bakunas | Punk |
| Greg Baxley | Punk |
| Konrad Sheehan | Punk |
| Eddie Earl Hatch | Punk |
| Tommy J. Huff | Punk |
| Leon Delaney | Punk |
| Irwin Keyes | Police |
| Larry Silvestri | Police |
| Sonny Landham | Police |
| Frank Ferrara | Police |
| Pat Flannery | Police |
| Leo Ciani | Police |
| Charles McCarthy | Police |
| Tony Clark | Police |
Genre: Action, Thriller
Media: Blu-ray
Sound: ENGLISH: Dolby Digital 5.1 [CC]