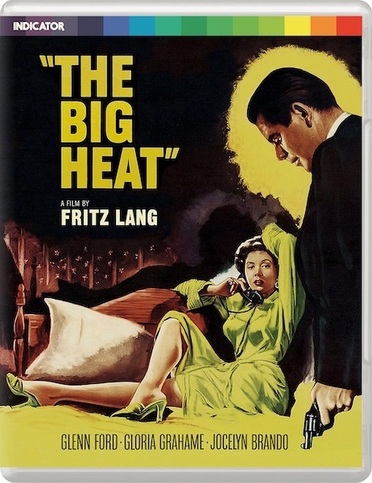 A hard cop and a soft dame.
Stars: Glenn Ford, Gloria Grahame, Jocelyn Brando, Alexander Scourby, Lee Marvin
Director: Fritz Lang
Writer: Sydney Boehm
Language: English
Studio: Indicator Series
Duration: 89
Rated: Unrated
DVD Release: May 2012
Dave Bannion is an upright cop on the trail of a vicious gang he suspects holds power over the police force. Bannion is tipped off after a colleague's suicide and his fellow officers' suspicious silence lead him to believe that they are on the gangsters' payroll. When a bomb meant for him kills his wife instead, Bannion becomes a furious force of vengeance and justice, aided along the way by the gangster's spurned girlfriend Debbie. As Bannion and Debbie fall further and further into the Gangland's insidious and brutal trap, they must use any means necessary (including murder) to get to the truth.
---
| | |
| --- | --- |
| Glenn Ford | Det. Sgt. Dave Bannion |
| Gloria Grahame | Debby Marsh |
| Jocelyn Brando | Katie Bannion |
| Alexander Scourby | Mike Lagana |
| Lee Marvin | Vince Stone |
| Jeanette Nolan | Bertha Duncan |
| Peter Whitney | Tierney |
| Willis Bouchey | Lt. Ted Wilks |
| Robert Burton | Det. Gus Burke |
| Adam Williams | Larry Gordon |
| Carolyn Jones | Doris |
| Howard Wendell | Police Commissioner Higgins |
| Chris Alcaide | George Rose |
| Michael Granger | Hugo |
| Dorothy Green | Lucy Chapman |
| Ric Roman | Baldy |
| Dan Seymour | Mr. Atkins |
| Edith Evanson | Selma Parker |
| Harry Lauter | Hank O'Connell (uncredited) |
| Michael Ross | Segal (uncredited) |
| Phil Arnold | Retreat Waiter (uncredited) |
| Sidney Clute | Retreat Bartender (uncredited) |
| Michael Jeffers | Retreat Patron (uncredited) |
| Linda Bennett | Joyce Bannion (uncredited) |
| Charles Cane | Police Guard Outside Lagana Home (uncredited) |
| Byron Kane | Police Surgeon (uncredited) |
| John Close | Policeman (uncredited) |
| Phil Chambers | Hettrick (uncredited) |
| John Crawford | Al - Bannion's Brother-in-Law (uncredited) |
| John Doucette | Mark Reiner (uncredited) |
| Al Eben | Harry Shoenstein (uncredited) |
| Douglas Evans | Councilman Gillen (uncredited) |
| Fritz Ford | Sailor (uncredited) |
| Donald Kerr | Cabby (uncredited) |
| Lyle Latell | Moving Man (uncredited) |
| John Merton | Man (uncredited) |
| Celia Lovsky | Lagana's Mother in Portrait (uncredited) |
| Ted Stanhope | Lagana's Butler (uncredited) |
| Herbert Lytton | Martin (uncredited) |
| Mike Mahoney | Dixon (uncredited) |
| Laura Mason | B-Girl (uncredited) |
| Paul Maxey | George Fuller (uncredited) |
| Joseph Mell | Medical Examiner (uncredited) |
| Patrick Miller | Intern (uncredited) |
| William Murphy | Reds (uncredited) |
| Ezelle Poule | Mrs Tucker (uncredited) |
| Norma Randall | Jill (uncredited) |
| Robert Stevenson | Bill Rutherford (uncredited) |
| William Vedder | Janitor (uncredited) |
| Arthur Morton | Original Music Composer |
| William P. McGivern | Original Story |
| Charles Lang | Director of Photography |
| Henry Vars | Original Music Composer |
| Jean Louis | Costume Design |
| Charles Nelson | Editor |
| William Kiernan | Set Decoration |
| Clay Campbell | Makeup Artist |
| Helen Hunt | Hairstylist |
| Robert Peterson | Art Direction |
| Milton Feldman | Assistant Director |
| George Cooper | sound engineer |
| Mischa Bakaleinikoff | Music Director |
Genre: Crime, Drama
Media: Blu-ray
Sound: Mono