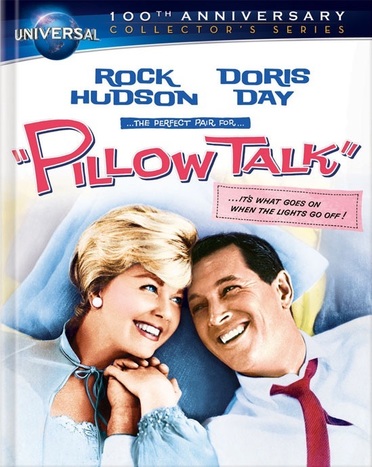 It's what goes on when the lights go off!
Stars: Doris Day, Rock Hudson, Tony Randall, Thelma Ritter
Director: Michael Gordon
Writer: Stanley Shapiro, Maurice Richlin, Russell Rouse, Clarence Greene
Language: English
Studio: Universal Pictures
Duration: 102
Rated: Parental Guidance
DVD Release: May 2012
Interior decorator Jan Morrow and composer Brad Allen share a phone line. Brad keeps the line occupied all day talking to his girlfriends, which annoys Jan terribly and animosity between them builds up. They however have never met and when by chance Brad sees Jan, he decides to add her to his list of conquests. Knowing however how she feels about him, he poses as an innocent Texan country boy named Rex Stetson to win her, a plan which seems to work.
---
| | |
| --- | --- |
| Rock Hudson | Brad Allen - 'Rex Stetson' |
| Doris Day | Jan Morrow |
| Tony Randall | Jonathan Forbes |
| Thelma Ritter | Alma |
| Nick Adams | Tony Walters |
| Julia Meade | Marie |
| Allen Jenkins | Harry |
| Marcel Dalio | Pierot |
| Lee Patrick | Mrs. Walters |
| Mary McCarty | Nurse Resnick |
| Alex Gerry | Dr. Maxwell |
| Hayden Rorke | Mr. Conrad |
| Valerie Allen | Eileen |
| Jacqueline Beer | Yvette |
| Arlen Stuart | Tilda |
| Frank De Vol | Composer |
| Robert Williams | Mr. Graham - Private Detective (as Robert B. Williams) |
| Perry Blackwell | Perry - 'Roly Poly' Singer |
| Arthur E. Arling | Cinematographer |
| Muriel Landers | Moose Taggett, Fat Girl |
| William Schallert | Hotel Clerk |
| Karen Norris | Miss Dickenson - Phone Investigator |
| Lois Rayman | Jonathan's Secretary |
| Don Beddoe | Mr. Walters (scenes deleted) |
| Lillian Culver | Woman in Elevator (uncredited) |
| Franklyn Farnum | Nightclub Extra (uncredited) |
| John Indrisano | Truck Driver Punching Jonathan (uncredited) |
| Joseph Mell | Furniture Dealer (uncredited) |
| Boyd 'Red' Morgan | Trucker (uncredited) |
| William H. O'Brien | Nightclub Waiter (uncredited) |
| Eddie Parker | Doorman (uncredited) |
| Jeffrey Sayre | Nightclub Dance Floor Extra (uncredited) |
| Charles Seel | Antique Dealer (uncredited) |
| Harry Tyler | Coachman (uncredited) |
Genre: Comedy, Romance
Media: Blu-ray
Sound: Mono