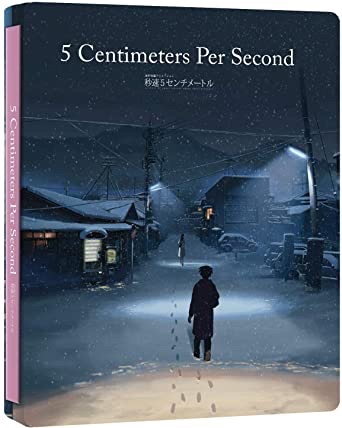 5 Centimeters per Second (Steelbook)
(2007)
One more chance, one more time.
Stars: Kenji Mizuhashi, Yoshimi Kondou, Satomi Hanamura, Ayaka Onoue, Risa Mizuno
Director: Makoto Shinkai
Writer: Makoto Shinkai
Language: English
Studio: CoMix Wave
Duration: 63
Rated: U
Takaki and Akari are two classmates in elementary school. During their time together they have become close friends. Their relationship is tested when Akari moves to another city because of her parents' jobs. Both of them struggle to keep their friendship alive, as time and distance slowly pulls them apart. When Takaki finds out that he is moving further away, he decides to visit Akari one last time.
---
| | |
| --- | --- |
| Kenji Mizuhashi | Takaki Tohno |
| Yoshimi Kondou | Akari Shinohara (segment "Oukashou") |
| Satomi Hanamura | Kanae Sumida (segment "Cosmonaut") |
| Ayaka Onoue | Akari Shinohara (segment "Byousoku 5 Centimeter") |
| Risa Mizuno | (voice) |
| Yuka Terazaki | (voice) |
| Yûko Nakamura | (voice) |
| Masami Iwasaki | (voice) |
| Rei Kondo | (voice) |
| Hiroshi Shimozaki | (voice) |
| Takahiro Hirano | (voice) |
| Akira Nakagawa | (voice) |
| Keiko Izeki | (voice) |
| Suguru Inoue | (voice) |
| Rion Kako | (voice) |
Genre: Anime, Drama, Family, Romance
Media: Blu-ray