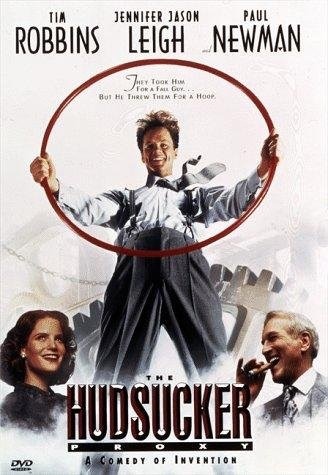 The Hudsucker Proxy
A Comedy of Invention.
Stars: Tim Robbins, Jennifer Jason Leigh, Paul Newman, Charles Durning, John Mahoney
Director: Joel Coen, Ethan Coen
Writer: Ethan Coen, Joel Coen, Sam Raimi
Language: English
Studio: PolyGram Filmed Entertainment
Duration: 111
Rated: PG
When Waring Hudsucker, head of hugely successful Hudsucker Industries, commits suicide, his board of directors, led by Sidney Mussberger, comes up with a brilliant plan to make a lot of money: appoint a moron to run the company. When the stock falls low enough, Sidney and friends can buy it up for pennies on the dollar, take over the company, and restore its fortunes. They choose idealistic Norville Barnes, who just started in the mail room. Norville is whacky enough to drive any company to ruin, but soon, tough reporter Amy Archer smells a rat and begins an undercover investigation of Hudsucker Industries.
---
| | |
| --- | --- |
| Tim Robbins | Norville Barnes |
| Jennifer Jason Leigh | Amy Archer |
| Paul Newman | Sidney J. Mussburger |
| Charles Durning | Waring Hudsucker |
| John Mahoney | Chief |
| Jim True-Frost | Buzz (as Jim True) |
| Bill Cobbs | Moses |
| Bruce Campbell | Smitty |
| Harry Bugin | Aloysius |
| John Seitz | Benny |
| Joe Grifasi | Lou |
| Roy Brocksmith | Board Member |
| John Wylie | Board Member |
| I.M. Hobson | Board Member |
| Gary Allen | Board Member |
| John Scanlan | Board Member |
| Richard Woods | Board Member |
| Jerome Dempsey | Board Member (as Jerome Dempsy) |
| Peter McPherson | Board Member |
| David Byrd | Dr. Hugo Bronfenbrenner |
| Christopher Darga | Mail Room Orienter |
| Patrick Cranshaw | Ancient Sorter (as Pat Cranshaw) |
| Robert Weil | Mail Room Boss |
| Mary Lou Rosato | Mussburger's Secretary |
| Ernest Sarracino | Luigi the Tailor (as Ernie Sarracino) |
| Eleanor Glockner | Mrs. Mussburger |
| Kathleen Perkins | Mrs. Braithwaite |
| Joseph Marcus | Sears Braithwaite of Bullard |
| Peter Gallagher | Vic Tenetta |
| Noble Willingham | Zebulon Cardoza |
| Barbara Ann Grimes | Mrs. Cardoza |
| Thom Noble | Thorstenson Finlandson |
| Steve Buscemi | Beatnik Barman |
| William Duff-Griffin | Newsreel Scientist |
| Anna Nicole Smith | Za-Za |
| Pamela Everett | Dream Dancer |
| Arthur Bridgers | The Hula-Hoop Kid (as Arthur Bridges) |
| Sam Raimi | Hudsucker Brainstormer |
| John Cameron | Hudsucker Brainstormer |
| Skipper Duke | Mr. Grier |
| Jay Kapner | Mr. Levin |
| Jon Polito | Mr. Bumstead |
| Richard Whiting | Ancient Puzzler |
| Linda McCoy | Coffee Shop Waitress |
| Stan Adams | Emcee |
| John Goodman | Newsreel Announcer (as Karl Mundt) |
| Joanne Pankow | Newsreel Secretary |
| Mario Todisco | Norville's Goon |
| Colin Fickes | Newsboy |
| Dick Sasso | Drunk in Alley |
| Jesse Brewer | Mailroom Screamer |
| Philip Loch | Mailroom Screamer (as Phil Loch) |
| Stan Lichtenstein | Mailroom Screamer |
| Todd Alcott | Mailroom Screamer |
| Ace O'Connell | Mailroom Screamer |
| Richard Schiff | Mailroom Screamer |
| Frank Jeffreys | Mailroom Screamer (as Frank Jeffries) |
| Lou Criscuolo | Mailroom Screamer |
| Michael Earl Reid | Mailroom Screamer |
| Mike Starr | Newsroom Reporter |
| David Hagar | Newsroom Reporter (as Dave Hagar) |
| Willie Reale | Newsroom Reporter |
| Harvey Meyer | Newsroom Reporter |
| Tom Toner | Newsroom Reporter |
| David Fawcett | Newsroom Reporter |
| Jeff Still | Newsreel Reporter |
| David Gould | Newsreel Reporter |
| Gil Pearson | Newsreel Reporter |
| Marc Garber | Newsreel Reporter |
| David Massie | Newsreel Reporter |
| Mark Jeffrey Miller | Newsreel Reporter (as Mark Miller) |
| Peter Siragusa | Newsreel Reporter |
| Nelson George | Newsreel Reporter |
| Mike Houlihan | Newsreel Reporter (as Michael Houlihan) |
| Ed Lillard | Newsreel Reporter |
| Wantland Sandel | New Year's Mob |
| James Deuter | New Year's Mob |
| Roderick Peeples | New Year's Mob (as Rick Peeples) |
| Cynthia Baker | New Year's Mob |
| Catherine Bayley | Temple Masseuse (uncredited) |
| Bryan Keith DeBose | Orderly (uncredited) |
| Steve Head | Security Guard (uncredited) |
| Jack Rooney | Man at Merchandise Mart (uncredited) |
| Keith Schrader | Businessman (uncredited) |
| Carter Burwell | Composer |
| Roger Deakins | Cinematographer |
| Donna Isaacson | Casting Director |
| John S. Lyons | Casting Director |
| Dennis Gassner | Production Designer |
| Leslie McDonald | Art Director |
| Nancy Haigh | Set Decorator |
| Richard Hornung | Custome Designer |
| Jean Ann Black | key makeup artist (as Jean A. Black) |
| Susan Buffington | additional hair stylist |
| Cydney Cornell | hair designer |
| Gilliane McAlister | additional makeup artist |
| Lydia Milars | Makeup Artist |
| Alyson Murphy | additional hair stylist (as Alison Murphy) |
| Rita Troy | additional hair stylist |
| Monty Westmore | makeup artist: Mr. Newman |
Genre: Comédie, Drama, Fantasy
Media: DVD
Sound: Dolby Digital