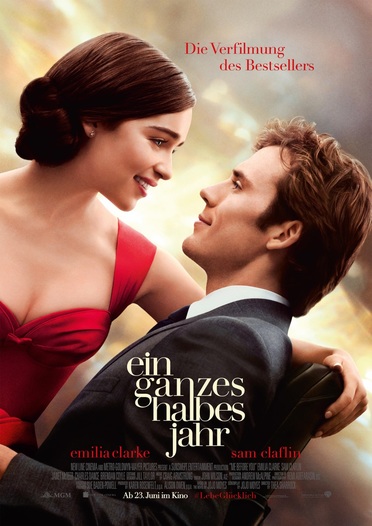 Ein ganzes halbes Jahr
(2016)
Me Before You
Live boldly.
Stars: Sam Claflin, Vanessa Kirby, Emilia Clarke, Eileen Dunwoodie, Pablo Raybould
Director: Thea Sharrock
Writer: Jojo Moyes
Language: English
Studio: Metro-Goldwyn-Mayer (MGM)
Duration: 106
Rated: 12
Lou Clark knows lots of things. She knows how many footsteps there are between the bus stop and home. She knows she likes working in The Buttered Bun tea shop and she knows she might not love her boyfriend Patrick. What Lou doesn't know is she's about to lose her job or that knowing what's coming is what keeps her sane. Will Traynor knows his motorcycle accident took away his desire to live. He knows everything feels very small and rather joyless now and he knows exactly how he's going to put a stop to that. What Will doesn't know is that Lou is about to burst into his world in a riot of color. And neither of them knows they're going to change each other for all time.
---
| | |
| --- | --- |
| Sam Claflin | Will Traynor |
| Vanessa Kirby | Alicia |
| Emilia Clarke | Lou Clark |
| Eileen Dunwoodie | Café Customer |
| Pablo Raybould | Frank |
| Gabrielle Downey | Daphne |
| Henri Charles | Thomas Clark (as Henri Kirkham) |
| Samantha Spiro | Josie Clark |
| Brendan Coyle | Bernard Clark |
| Jenna Coleman | Katrina "Treena" Clark |
| Alan Breck | Grandad |
| Matthew Lewis | Patrick |
| Muzz Khan | Syed |
| Janet McTeer | Camilla Traynor |
| Charles Dance | Stephen Traynor |
| Stephen Peacocke | Nathan |
| Ben Lloyd-Hughes | Rupert |
| Richard Goulding | Freddie Foster |
| Diane Morgan | Sharon the Waitress |
| Stephen Chance | Michael Lawler |
| Joanna Lumley | Mary Rawlinson |
| Sharon Cherry Ballard | Hotel Receptionist (as Sharon Ballard) |
| Lily Travers | Karen |
| Chuku Modu | Mauritian Waiter |
| Verity Marshall | Anna |
| Manuel Severi | French Waiter |
| Rebecca Adams | post-production supervisor |
| Sue Baden-Powell | Unit Production Manager |
| Romy Barber | director of post production: mgm |
| James 'Fingers' Buxton | unit manager |
| Gilles Castera | production manager: Paris Unit |
| Chio del Olmo | Unit Production Manager |
| Kacie Kane | director of post production: mgm |
| Emma Mallett | Production Supervisor |
| Peter Oillataguerre | executive in charge of production |
| Michael Solinger | post-production supervisor |
Genre: Drama, Romance
Media: DVD
Sound: Dolby Digital