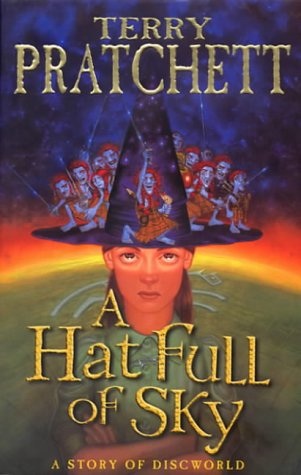 Author: Terry Pratchett
Publisher: Doubleday
Language: English
Pages: 349
Series: Discworld
ISBN: 9780385607360
Genre: Fantasy, SF
Format: Hardcover
Pratchett's third children's novel set in the Discworld, and the second to feature wannabe witch Tiffany Aching and the Wee Free Men, is so ridiculously well written and consistently funny it makes you wonder how he can keep writing such superlative novels without cheating a bit. It would be reassuring to think that the Carnegie Medal-winning author of "The Amazing Maurice and his Educated Rodents" and "The Wee Free Men" had his own small army of professional helpers, not unlike like a US sitcom, inventing and deliberating about which are the best jokes and plot lines to use to ensure the best quality quotient. But it's all his own work and that makes each brilliant novel more remarkable because of it.
A Hat Full of Sky continues the adventures of eleven-year-old Tiffany as she endeavours to become a proper witch. She's 'done' magic before, quite spectacularly and to great effect, but now she must be apprenticed to an established practitioner of the craft, the amazing Miss Level, in order to learn exactly how she did it. Unfortunately for her, there's a crazed and malevolent ancient spirit buzzing about, called a Hiver, who is looking for a convenient host to consume. Hiver's are attracted to greatness, and Tiffany hides an enormous talent that seems ripe for domination.
Still grateful for Miss Aching's past help, a crack team of several Wee Free Men, nature's funkiest, drunkest and bluest fairy folk, take it upon themselves to help Tiffany out. Hiver's, however, are unbeatable and it's a definite "sooey-side mission" to save the big wee hag from harm.
It's great to see writing of such quality in a children's novel, and it's further evidence that this sector of the publishing world is having a bit of a golden decade. Long may it continue! (Age 10 and over)--"John McLay"