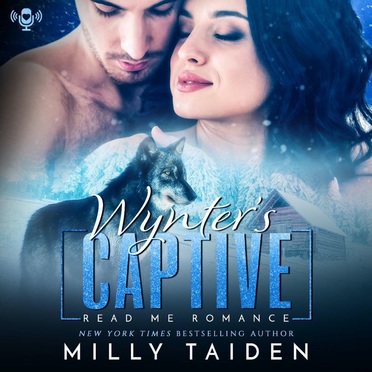 Wynter's Captive
Author: Taiden Milly
Publisher: Etopia Press
Pages: 124
ISBN: 9781940223759
Genre: Paranormal fiction
Format: Audiobook Read Me Romance
Being held captive for winter never felt so good.
Lili is on her way to her cousin's wedding when she thinks she hit a man in the road. Leaving the safety of her car to check on him turns out the be a big mistake, and pretty soon Lili is being abducted and held against her will by a super-sexy wolf who her body longs to touch. But just because he's hot doesn't mean she's going to remain a captive.
Cade is not just an alpha, he's a very wealthy man, used to getting what he wants. So when he attempts to abduct his ex-friend's fiancé, he doesn't expect to wind up with the wrong woman. Just how did he wind up with the maid of honor? And why does the woman melt every inch of him? But when she escapes, real danger awaits her beyond his protection. Cade must convince her to see beyond his deception if he has any chance to keep her alive.