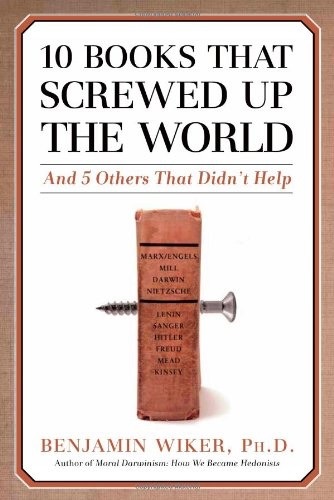 10 Books That Screwed Up the World: And 5 Others That Didn't Help
(2008)
Author: Benjamin Wiker
Publisher: Regnery Publishing
Language: English
Pages: 260
Genre: Literature & Fiction
Format: Hardcover
I recommend this book to any American who is concerned about the condition of our culture. Dr. Benjamin Wiker is the kind of doctor we need in order to heal our souls, a specialist in moral philosophy. Too many of the bright minds of our boomer generation swallowed the dangerous idea that morality had been superseded, and that technology and scientific knowledge would be sufficient to guide us into an ever-improving future. On a personal and on a societal level, we are now realizing that morality matters, and that we had better take another look at the moral tradition that Western Civilization has been grounded in thru all these centuries.
Ben Wiker is extremely well-informed about that tradition, and there is more good news: his writing is not dry, obscure or impenetrable. His style is lively and fast-paced, and he has a flair for memorable figures of speech. Since he has been a teacher for many years, he knows how to keep the level of his discourse appropriate to his intended audience. Thankfully, that level is such that his book is accessible to anyone who is not afraid to think about ideas, and who has a high-school graduate's command of English.
An alternative title for this book might be "Philosophers' Absurdities," a phrase taken from Wiker's introduction. Please don't let the word philosophy scare you. Wiker has a virtuoso's ability to cut the concepts down to sizes appropriate for those of us who have not taken courses in philosophy. And he does not fall into the trap of presuming knowledge in fields that are not within his expertise. For example, in his discussion of Darwin and the survival of the fittest, he concentrates on Darwin's pronouncements about human beings and their moral status, rather than getting into murky discussions about biological speciation or Lyellian substantive uniformitarianism.
This book does not have the answers to all of life's questions, but it gives a clear-minded critique of some very dangerous ideas. Please read this book and then join the work of reading, thinking and communicating that will be necessary in order to restore our nation's moral compass. Perhaps Dr. Wiker will aid us in this work by following up with another compilation, 10 Books That Can Heal the World. Until then, I recommend "Schall's Twenty Books to Keep Sane By," which is available on the Web.
Wiker's book has an adequate 10-page index and is printed in easy-to-read type on pages which have minimal show-thru. The binding looks strong. All in all, it is worth the price.
Benjamin Wiker has been blessed with a brilliant mind, and with the ability to communicate his mind's findings with grace and artistry. For evidence of this quality, see the Amazon reviews of his earlier book (written with Jonathan Witt) A Meaningful World: How the Arts and Sciences Reveal the Genius of Nature.