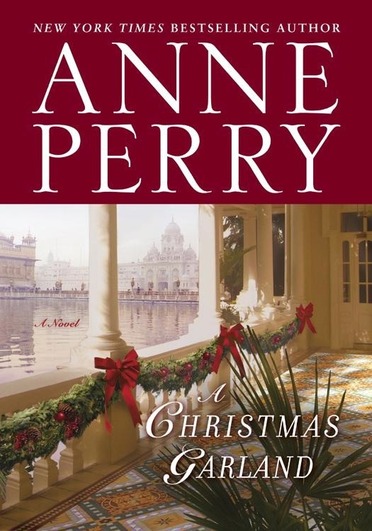 A Christmas Garland
(2012)
Author: Anne Perry
Publisher: Ballantine Books
Pages: 160
Series: Christmas novellas #10
ISBN: 9780345530745
Genre: Crime & mystery, Historical Fiction, Historical mysteries
"An annual treat," declared The Wall Street Journal of Anne Perry's Victorian-era holiday mysteries. Now she continues this magnificent tradition with A Christmas Garland, a yuletide tale set in exotic India. This time the mistress of mystery tells the story of a terrible crime that sets the stage for another: accusing an innocent man of murder.
The year is 1857, soon after the violent Siege of Cawnpore, with India in the midst of rebellion. In the British garrison, a guard is killed and an Indian prisoner escapes, which leads to yet more British deaths. Cries for revenge are overwhelming. Despite no witnesses and no evidence against him, a luckless British medical orderly named John Tallis is arrested as an accomplice simply because he was the only soldier unaccounted for when these baffling crimes were committed.
Though chosen to defend Tallis, young Lieutenant Victor Narraway is not encouraged to try very hard. Narraway's superiors merely want a show trial. But inspired by a soldier's widow and her children, and by his own stubborn faith in justice, Narraway searches for the truth. In an alien world haunted by memories of massacre, he is the accused man's only hope.
The trial of John Tallis equals the white-knuckle best of Anne Perry's breathtaking courtroom dramas. And thanks to a simple Christmas garland and some brilliant detective work, Narraway perseveres against appalling odds, learning how to find hope within himself—and turn the darkest hour into one full of joy and light.
PRAISE FOR THE CHRISTMAS NOVELS OF ANNE PERRY
 
A Christmas Homecoming
"Could have been devised by Agatha Christie . . . [Perry is] a modern master."—Pittsburgh Post-Gazette
"Vastly entertaining . . . uplifting and thought-provoking by turns."—The Star-Ledger
A Christmas Odyssey
"[Perry] writes with detail that invades the senses."—Lincoln Journal Star
A Christmas Promise
"Poignant . . . should be on the Christmas stocking list of anyone who likes a sniffle of nostalgia."—The Washington Times
A Christmas Grace
"[A] heartwarming, if crime-tinged, complement to the holiday season."—Booklist
A Christmas Beginning
"Intriguing . . . Perry's use of period detail is, as always, strong and evocative."—The Seattle Times
From the Hardcover edition.Review'Delightful ... The perfect gift for a whodunit addict who likes to curl up with a good book after Christmas lunch' -- Oxford Times 'A bite-sized mystery that could be fitted in after your Christmas lunch' -- Daily Telegraph About the AuthorAnne Perry is the author of two Victorian–era series––one featuring investigator William Monk, the other featuring police inspector Thomas Pitt––as well as a series set amid World War I. She lives in the Scottish Highlands.