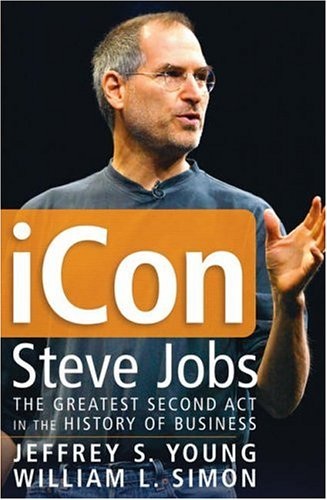 Icon Steve Jobs: The Greatest Second Act in the History of Business
(2005)
Author: Jeffrey S. Young, William L. Simon
Publisher: John Wiley & Sons
Pages: 368
ISBN: 9780471720836
Genre: Age (feature_two_browse-bin), Amazon, Biographies & Memoirs, Company Histories, Computers, Condition (condition-type), Engineering, English, General AAS, Hardcover, Search Inside!
Format: Hardcover
iCon got a bit of a thrashing when it came out. It was an unauthorised biography and the dispassionate and objective manner in which some quite sensitive topics are betrayed rightly annoyed the intolerant Mr Jobs. I am lead to believe by colleagues in the industry that many copies of iCon were sold under the banner of, "The biography that Steve Jobs did not want you to read."
An attempted ban can be the best marketing device any author (although this book is co-authored by two extremely talented individuals) could wish for. Although I have to say this is completely unnecessary; the book stands up on its own merit. As well as being an insightful look into the crazy and quite frankly remarkable world of Mr Jobs, the book tells an amazing story about some of the biggest and most influential companies of the last thirty years. It also shows how, regardless of how damned talented Steve Jobs is, that luck undoubtedly played a part. The intriguing set of circumstances that led Steve back to Apple Computers Inc. after his initial fall from grace serves as a cold hard lesson in business as well as being an engaging read.
Once I started this, I could not stop turning the pages. It is a very well written book, and extremely entertaining on a number of levels. The book stands alone as an interesting story and a lesson in anthropology, psychology and politics. It is also a remarkable business text – but then again, what you expect from a well written biography about the man who reinvented computers, music and film?