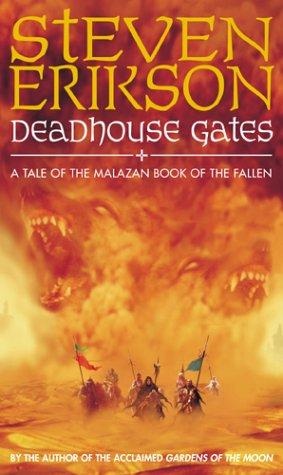 Author: Steven Erikson
Illustrator: Steve Stone
Publisher: Bantam Press
Pages: 959
Series: A Tale of the Malazan Book of the Fallen
ISBN: 9780553813111
Genre: Fantasy
Format: Mass Market Paperback
If you're looking for a low-calorie dish of light fantasy, this ain't it. If you're looking for a nine-course riot of taste and texture, exotically spiced to make your eyes water, your heart pump faster and your brain do cartwheels inside your cranium, I know a great little Thai place downtown. Or, if you want something analogous to that in your reading, stop at the 'E's and pick up the latest from Steven Erikson.
Like 'Gardens of the Moon', and indeed like the whole concept for the 10-volume Malazan series, Deadhouse Gates is an ambitious work that is sometimes in danger of over-reaching itself. But if you can buckle down for the ride, it sure is a frightening one.
I don't know what to say, this is the greatest fantasy book I have read ever for a few years. The book starts of a bit slow and your not sure what is happening, as you read on you start to understand what is happening. The book is not just focused on one Character, but serveral. Like most fantasy goods, its good vs Evil, this is different, Good guys do bad things and bad guys do good things and sometimes things that look good are actually bad. So you don't know who's side you are on. In GOTM (Gardens of the Moon), people were say there was not enough history background info, but you find out much in this book, and I'm sure we will find out much more in the future books. The second half of the book, starts to set off fireworks, fast pace action, this book makes you think. Kalam, Crokus, Apsalar, and Fiddler are back, and they got business to sort out.
The characters have totally different personalities, and aims. Also we see alot of Parans younger sister Fesilin, and hear much about his older sister. The book is building up to a massive climax for the seven cities, where each side will later have to gamble, take risks, and have the nerves to do what they need to. Also you learn much more about Shadowthrone's and co, history. And the new characters are wicked. S.E really knows all about writing battles, and descripbing exactly what is happening. You'll know what I mean when you read about the Chain Of Dogs.
It is quite challenging to read, but when you have finished it, you'll be demanding more. I just can't wait for the next one to come out when they return to Genabackis, coming out in Sep 2001 called 'Memories of Ice'.