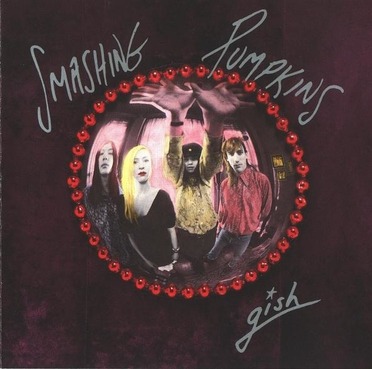 The Smashing Pumpkins
Label: Virgin Records America
Duration: 2:56:37
Genre: Hard rock, Alternative rock, Grunge music, Psychedelic rock, Indie rock, Alternative metal
Gish is the debut album by American alternative rock band The Smashing Pumpkins, released in May 1991 through Caroline Records. Frontman Billy Corgan described Gish as a "very spiritual album". Despite initially peaking at only number 195 on the Billboard 200 upon its release, Gish was eventually certified platinum (one million copies shipped) by the RIAA.
Gish was recorded from December 1990 to March 1991 in Butch Vig's Smart Studios in Madison, Wisconsin with a budget of $20,000. Vig and Billy Corgan worked together as co-producers. The longer recording period and larger budget were unprecedented for Vig, who later remembered,
(Corgan) wanted to make everything sound amazing and see how far he could take it; really spend time on the production and the performances. For me that was a godsend because I was used to doing records for all the indie labels and we only had budgets for three or four days. Having that luxury to spend hours on a guitar tone or tuning the drums or working on harmonies and textural things . . . I was over the moon to think I had found a comrade-in-arms who wanted to push me, and who really wanted me to push him.
---
| Track | Duration |
| --- | --- |
| siva | 4:19 |
| Bury Me | 4:46 |
| Crush | 3:33 |
| Suffer | 5:08 |
| Tristessa | 3:32 |
| Window Paine | 5:49 |
| Daydream | 3:07 |
| untitled | 0:57 |
| Starla (2011 mix) | 11:01 |
| Siva (Peel session) | 4:49 |
| Honeyspider (Reel Time demos / 2011 mix) | 2:53 |
| Hippy Trippy (Crush Music Box demo) | 3:33 |
| Snail (live radio performance) | 5:48 |
| Plume (2011 mix) | 3:34 |
| Bury Me (Reel Time demos / 2011 mix) | 4:18 |
| Daydream (Old House demo) | 2:05 |
| Tristessa (Sub Pop single / 2011 mix) | 3:48 |
| girl named sandoz | 3:35 |
| Jesus Is the Sun (apartment demo) | 2:55 |
| Blue (Gish sessions demo) | 4:07 |
| Smiley (Gish sessions demo) | 3:36 |
| I Am One (Reel Time demos / 2011 mix) | 4:21 |
| Seam (Suffer / apartment demo) | 4:09 |
| La Dolly Vita (2011 mix) | 4:18 |
| Pulseczar (Gish sessions demo) | 2:31 |
| Drown (alternate guitar solo) | 8:17 |
| Introduction | 1:48 |
| I Am One | 4:11 |
| Snail | 4:15 |
| Rhinoceros | 5:36 |
| Razor | 5:16 |
| Sookie Sookie | 6:34 |
| Godzilla | 5:00 |
| Crush (acoustic) | 3:45 |
Original Release: 1991-05-28
Composer: Billy Corgan
Producer: Butch Vig
UPC: 17046170529, 5099990959622, 724383966325, 17046170512, 5020803002020