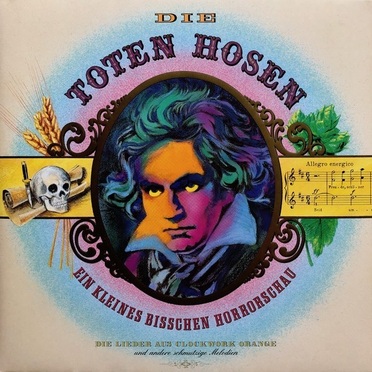 Ein Kleines Bisschen Horrorschau
(2018)
Die Toten Hosen
Label: T.O.T. Musik GmbH
Duration: 40:39
Genre: Rock
30 years - Anniversary Edition. Limited and numbered edition of 4000 copies.
180 gram Vinyl LP & 2-CD in a Deluxe Gatefold Box. Includes 24-page booklet in LP format.
Tracks CD2-1 to CD2-3 taken from [r=694145],1988.
Tracks CD2-4 to CD2-6 are recordings from "A Clockwork Orange" theatre at Schauspielhaus Bonn, 1988.
Track CD2-7 is a demo track from the "Ein Kleines Bisschen Horrorschau" recordings, 1988.
Tracks CD2-8 and CD2-9 are demo tracks from the "Kauf Mich!" recordings, 1993.
Track CD2-10 is a demo track from the "Unsterblich" recordings, 1999.
---
| Track | Duration |
| --- | --- |
| Hier kommt Alex | 3:53 |
| 1000 gute Gründe | 3:33 |
| Ein Schritt Zuviel | 2:22 |
| Keine Ahnung | 2:08 |
| Die Farbe Grau | 3:52 |
| 180 Grad | 4:33 |
| Mehr davon | 5:10 |
| Zahltag | 2:42 |
| 35 Jahre | 2:15 |
| Musterbeispiel | 3:55 |
| Testbild | 3:17 |
| Bye, Bye Alex | 2:59 |
| Zum Chef (Später Dank) | |
| Jo Singt (Das Wort Zum Sonntag) | |
| Liebeslied | |
| 1200 Grad | |
| Einmal In Vier Jahren | |
| Schwarze Sherrifs | |
| Zigarettenautomat | |
Original Release: 1988-01-01
Producer: Die Toten Hosen, Jon Caffery
UPC: 652450188885