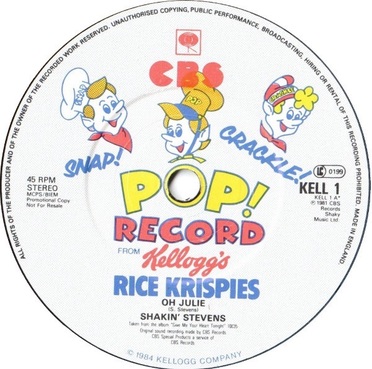 Oh Julie / I Have A Dream
(1984)
Shakin' Stevens, ABBA
Label: CBS
Genre: Pop, Vocal
Label states "Snap! Crackle! Pop! Record From Kellogg's Rice Krispies". Unclear if this is part of the title.
One of four vinyl singles given as part of a "token collect" freebie promotion with Kellogg's Rice Krispies.
Each contained two former hit singles (one track on each side) from the late-1970s/early-1980s. To the best of my knowledge, these are the same as the original single A-sides.
---
Track
Artist
Oh Julie
I Have A Dream