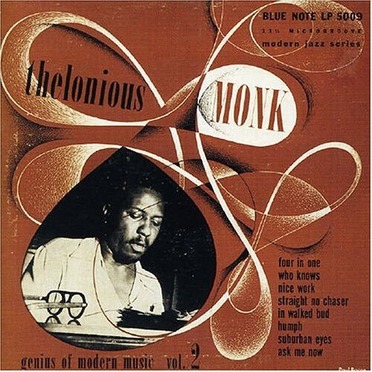 Genius of Modern Music, Vol. 2
(1989)
Thelonious Monk
Label: Blue Note
Duration: 59:23
Genre: Jazz
These were the last sessions that Thelonious Monk recorded during his tenure at Blue Note Records which lasted from 1947 to 1952 and they comprise as the previous Volume 1 edition the first incantations of so many of his classic compositions that he would record again throughout the later 1950's and 60"s. If one looks at his recording dates whilst at Blue Note there is a four year gap and although he had lost his Cabaret License and was no longer able to play licensed venues and clubs, it was that his records did not sell being more the reason for his absents. Monk's music was not the usual BeBop with its fast tempos and starring solos but more a collective with each musician required to interlink with each other to maintain those looping, jaunting, up and down notes that the majority of Thelonious Monk compositions contain. Nobody back then really got it apart from his fellow Jazz musicians and what other people termed as music odd balls. It was different music for that period in the History of Jazz and the other issue was getting fellow musicians who ce that Monk used within his compositions which although the prior Volume 1 has so many of his original classic compositions contained and is a Jazz Classic in its own right due to this fact, it is just some of the musicians used in those first three sessions back in 1947, at times seemed to be out of sync with Monk. "Genius Of Modern Music Volume 2" seems to have remedied this problem with the only two musicians still included from those early sessions being Art Blakey drumming and Sahib Shihab on alto saxophone.
The album is divided into two sessions with alternate takes included with the first being a Quintet comprising Monk, piano, Sahib Shihab on alto saxophone, Milt Jackson on vibes, Al McKinnon, bass and Art Blakey is drumming. The first composition is "Four In One" with Monk opening and quickly inserting the compositions theme with Sahib on alto providing quite a distinct sound to accompany Monk's piano, with a solo to follow each with Milt Jackson's vibes included last. The alternate take which follows is the same for quality, as like true Jazz musicians the solos are not the same with Monks being a little longer and Sahib's shorter. "Criss Cross" another Monk classic follows and Milt Jackson solos first on vibes in quite an up tempo composition with Sahib and Monk following. The alternate is again slightly different to the first. "Eronel" which follows has Sahib's opening alto and the band interlinking for more wonderful original music. "Straight No Chaser" comes next, being superb in its original format and one can hear Monk playing a heavily influenced Stride piano during his solo. "Ask Me Now" has two takes included with the alternate running to 4 and a half minutes with a slightly slower tempo than the master which only ran to 3. This composition is only performed in a Trio setting with the rhythm section. I find the alternate more appealing as one can hear a 1920's distinct touch of Stride and Dance Hall within Monk's piano technique. "Willow Weep For Me" is the last for the session and the only Standard and is played superbly of course with Monk's technique which brings this first session to an end.
The 2nd session contains a completely different line up and is a Sextet comprising Kenny Dorham on trumpet, Lou Donaldson, alto saxophone, Lucky Thompson, tenor saxophone, Nelson Boyd, bass and Max Roach on drums. The first three Monk compositions all have alternate or a 2nd take included and it is "Skippy" which comes first with a marvellous fast tempo including wonderful solos by the musicians on both takes. "Hornin' In" which follows is pure Monk and why he never used this composition more is a mystery as it has the required kook inserted by the tunes theme. "Sixteen" another composition which he seemed to have left behind, as with the previous two compositions is pure Monk again with the structure and timing. A cover of "Carolina Moon" was also superbly done at this last session with the last Monk composition being his classic "Let's Cool One". The session finished recording that day playing the Standard "I'll Follow You" in a Trio setting. A lot of the credit should go to a young Max Roach throughout the session for his superb take on the music with his drumming.
These first two Blue Note volumes contain the Exodus section from the Bible for Jazz as this where Thelonious Monk first presented his original Bop compositions which became the foundation for so many influences that permeate the music genre. Sure there has been better recordings of some of these numbers since but this is the original presentation. The inclusion of Milt Jackson on vibes laid a template for so many Avante Garde recordings which would follow in the future. The horn arrangements used more often than not as counters within his compositions themes are another influence that has forever left its mark on Jazz.
Twenty one days prior to recording the first session of "Volume 2" Monk recorded with Milt Jackson at Blue note with the material from that session appearing under Milt Jackson's name as part of his release "Wizard Of The Vibes" with some of the material from this session recorded on July 23 1951 being also included. There also was a 10 inch (1952) and a 12 inch ( 1956) record issued under "Genius Of Modern Music Vol 2" with some of the material crossing over. Lucky for us the first cd issued in 1989 puts all of Monk's music with his last session recorded approximately 10 months later in actual recording order. There are so many editions released since with an RVG (Rudy Van Gelder) remaster following this original cd release which I would also recommend or get the record as that is available as well these days.
Matthew T, Forum Admin Group · Jazz Reviewer
---
Track
Artist
Duration
1 Four In One
3:28
Four in One
3:26
3 Eronel
Straight No Chaser
Eronel
3:01
Straight, No Chaser
2:54
Nice Work if You Can Get It
Criss Cross (Alternate Take)
Willow Weep for Me
3:00
Skippy
2:55
7 Four In One (Alternate Take)
3:30
Sixteen (Second Take)
Hornin' In
3:07
10 Skippy
2:58
Sixteen
3:36
Carolina Moon
3:25
Let's Cool One
3:45
I'll Follow You
3:46
3:25
14 Let's Cool One
3:46
15 I'll Follow You
Written-By – F. Ahlert*, R. Turk*
3:44
16 Skippy (Alternate Take)
3:07
17 Hornin' In (Alternate Take)
3:06
18 Sixteen (First Take)
3:28
Original Release: 1989-01-01
UPC: 77778151128, 724353213923