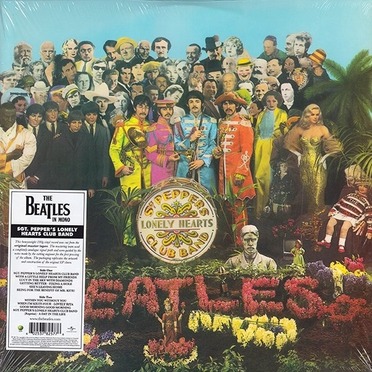 Sgt. Pepper's Lonely Hearts Club Band
(2014)
The Beatles
Label: Parlophone
Duration: 38:56
Genre: Rock, Psychedelic Rock, Rock & Roll
2014 mono 180 g reissue. Sleeve is a replica of the original UK release and shows legacy credit of "Printed and made by Garrard & Lofthouse Ltd." and original copyright for Northern Songs Ltd. Includes custom inner sleeve, cardboard insert, as well as an insert with mastering notes, updated copyright/publishing details, and an ad for the Cirque Du Soleil "Love" show.
℗ 1967 © 2014 Calderstone Productions Limited.
Artwork © Apple Corps Limited.
---
| Track | Duration |
| --- | --- |
| Sgt. Pepper's lonely hearts club band | |
| With a little help from my friends | |
| Lucy in the sky with diamonds | |
| Getting better | |
| Fixing a hole | |
| She's leaving home | |
| Being for the Benefit of Mr. Kite | |
| Within you without you | |
| When I'm sixty-four | |
| Lovely Rita | 2:40 |
| Good morning good morning | |
| Sgt. Pepper's lonely hearts club band (Reprise) | |
| A day in the life | |
Original Release: 1967-01-01
Producer: George Martin
UPC: 602537825776