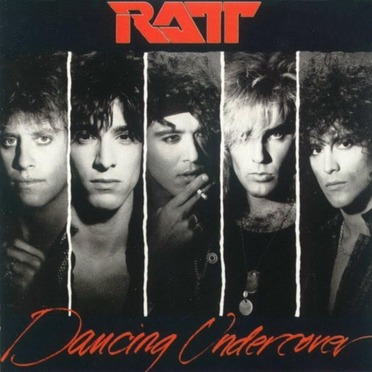 Dancing Undercover
(1990)
Ratt
Label: Atlantic / Wea
Duration: 34:55
Genre: Hard Rock
Music critics point to Ratt's first album, "Out of the Cellar", as their best record, and there's no doubt: "Out of the Cellar" is a glam metal GEM, no question! However, I personally like "Dancing Undercover" of all of Ratt's 80's albums. Maybe it's the implicit sexuality the album drips with that is "palpable and delicious", as one reviewer very aptly put it. Maybe it's the 80's sound that so many of us still love, but without the commercialism, without the synths and keyboards that so many 80's metal bands (including the Metal Gods --Judas Priest) began experimenting with. Maybe it's axeman Warren DeMartini's crunching riffs and intricate solos, and frontman Stephan Pearcy's raspy voice that together give Ratt their distinctive, trademark, sleazy sound. Maybe because Ratt seemed to be able to pull off a metal album that you could make love to as easily as you could flat-out ROCK to. It could be any of these things that make this album Ratt's best work.
And I ought to mention that from start to finish, this album is arranged and produced perfectly. Each song's rhythm, beat, and pulse gives way nicely to the next song, giving a fluidity to the arrangement of the songs. Throughout the album there isn't a slow spot to be had, though Ratt bumps along with different tempos as the album progresses.
This album is also the complete Ratt package. There are no filler songs, no songs that seem "thrown in" to disrupt the flow of the album. But while these songs could easily stand alone as singles not heard in context with their counterparts, the metal you will find here is better heard when the whole album is heard from start to finish. Listening through will also magnify the sensuality hidden within this album.
The first six tracks are fast and furious, decadent and lustful. The opening track "Dance" is about an 18 year old girl dancing in a club that grabs the attention of a male onlooker, and soon they are dancing in the bedroom. Appropriately, "One Good Lover" is the follow-up track, as "Dance" seamlessly gives way to it, the two flowing together so well that you have to listen carefully to know when the songs change. The energy goes on, again appropriately, with the rhythm, licks, and lyrics of "Drive Me Crazy," a song that links "One Good Lover" and the next song, "Slip of the Lip", perfectly. "Slip" begins a set of four songs that are both implicit and explicit in their sexuality and sleaze. The titles of songs 4-7 alone will exemplify this enough, and guitar solos, the drumming, the bass playing, the lyrics-- everything-- just add to the sensation and the driving beat. And if no other song other than "Dance" on here is even noticeable, "Body Talk" should be, and for good reason: it's fast, it's bottom-heavy, it's driving, and it hits full force with a excellent display of the Ratt and Roll strut, attitude, and hooks.
The closing three tracks bring the album nicely to a close, though they leave you wanting even MORE than the ten songs that you get! But after a breathless first seven tracks, these songs, while maintaining the continuity of the album and holding true to the context, the theme, and the overall sound of the album, allow you to slow down a little, to take it easy-- slow, sensual, but still very much exuberant, sleazy, and alive.
So it could be a lot of things that make this album my personal favorite metal album, and quite possibly Ratt's finest production. But it could also be just be the best "because it is."
---
| Track | Duration |
| --- | --- |
| Dance | 4:17 |
| One Good Lover | 3:06 |
| Drive Me Crazy | 3:42 |
| Slip Of The Lip | 3:15 |
| Body Talk | 3:44 |
| Looking For Love | 3:09 |
| 7th Avenue | 3:11 |
| It Doesn't Matter | 3:08 |
| Take A Chance | 4:00 |
| Enough Is Enough | 3:23 |
Original Release: 1986-01-01
Arranged By: Ratt
Producer: Beau Hill
UPC: 75678168321