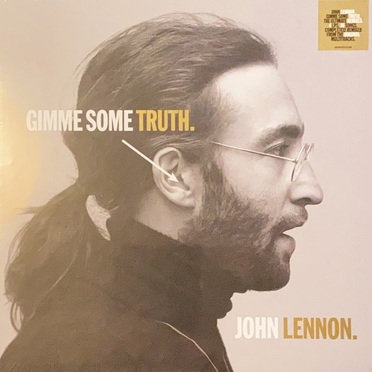 John Lennon
Label: Universal Music Group International
Duration: 2:17:28
Genre: Rock, Art Rock, Pop Rock
The 4 LP's come in black vinyl, housed in 2 gatefold sleeves with 8-page booklet + fold-out double-sided poster, 2 post cards and GIMME SOME TRUTH. bumper sticker.
Made in the Czech Republic.
Sticker:
JOHN LENNON.
GIMME SOME TRUTH.
THE ULTIMATE REMIXES.
4LP. 36 SONGS.
COMPLETELY REMIXED
FROM THE ORIGINAL
MULTITRACKS.
---
| Track | Duration |
| --- | --- |
| Instant Karma! (We All Shine On) | 3:22 |
| Cold Turkey | 5:01 |
| Working Class Hero | 3:46 |
| Isolation | 2:51 |
| Love | 3:20 |
| God | 4:11 |
| Power To The People | 3:23 |
| Imagine | 3:02 |
| Jealous Guy | 4:10 |
| Gimme Some Truth | 3:15 |
| Oh My Love | 2:42 |
| How Do You Sleep? | 5:35 |
| Oh Yoko! | 4:15 |
| Angela | 4:04 |
| Come Together (Live) | 4:17 |
| Mind Games | 4:11 |
| Out The Blue | 3:21 |
| I Know (I Know) | 3:49 |
| Whatever Gets You Thru The Night | 3:27 |
| Bless You | 4:37 |
| #9 Dream | 4:46 |
| Steel And Glass | 4:38 |
| Stand By Me | 3:31 |
| Angel Baby | 3:41 |
| (Just Like) Starting Over | 3:55 |
| I'm Losing You | 3:59 |
| Beautiful Boy (Darling Boy) | 4:01 |
| Watching the Wheels | 3:32 |
| Woman | 3:32 |
| Dear Yoko | 2:33 |
| Every Man Has a Woman Who Loves Him | 3:18 |
| Nobody Told Me | 3:33 |
| I'm Stepping Out | 4:04 |
| Grow Old With Me | 3:20 |
| Happy Xmas (War Is Over) | 3:33 |
| Give Peace A Chance | 4:53 |
Original Release: 2020-01-01
UPC: 602435001982